well established and here for you
Our Team Of Experts Are Here For You
Castles aren't built in a day. Over the years since its inception sustained efforts have been invested at Generational Capital to build a high quality team. We are growing brick by brick and comprises of talent whom you will get to see more and more of as we grow…
Our Team comprises of seasoned Knowledgeable persons who with their thorough knowledge and expertise have carved out a niche in the Private Wealth Management Boutique.
The quality and skill set of the team players is well recognized in the Industry and is ably demonstrated by the quality of Wealthy Private Clients & Families being served by us currently.
Our existing team is perfectly poised to realize its Vision of becoming the "Best Wealth Management Platform" in India.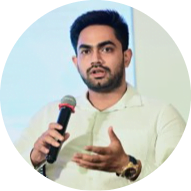 Founder & Executive Chairman Generational Capital | Fund manager - RH Perennial Fund
Satwik is a global investor trying to identify major wealth creation trends, monopolistic and fast growing capital efficient franchises with reinvestment runways run by able and minority friendly management.
He has previously worked in one of India's largest multi family offices- Client Associates which advised over INR 25000 crores, Elara India Gateway Fund, and Deloitte in buyside investment research & investment banking across sectors and geographies.
He also co-founded the "Zomato of fitness industry", fitnessholic.com aggregating over 150 fitness centers on its platform and was a professional golfer on the PGTI
"I would talk of the instant impact if I have to talk about the team. The energy these young individuals have is heartening to see. They have managed to add monetary and non-monetary value to my finances and the best part is, the entire process seemed effortless."
"I have interacted with the team through market cycles & am impressed by their ability to stay calm and identify megatrends across the spectrum of investments."
"The team brings significant insights into global and domestic markets across asset classes. Working with them proved to be invaluable, and we look at a continued long-term relationship with them."
"Satwik & his team have become friends with our family on whom we can trust to navigate the journey towards financial freedom"
be part of our success. join today.